Creating The Perfect Interior Paint Colors For Your Rental Property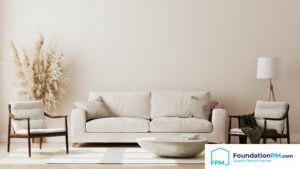 When I decided to use a special Gray on all our interior walls the decision was easy. Beige is DATED, White is too light and shows every scuff mark or fingerprint. Foundation Gray is a proprietary color mixed in-house by Sherman Williams for our homes.
Being able to replicate and duplicate at will is a KEY to moving fast and consistent in the investment world. If we had to stop and match a paint color every time, we touch up a wall we would not be able to provide the service we offer in a timely manner.
When choosing a property manager, ask them about the systems and processes they have established and judge them on their consistent behaviors.
Choosing the right interior paint colors for a rental property can be a daunting task. You want to make sure the colors you select are both visually appealing and versatile enough to appeal to a wide range of potential renters. Here are some of the best interior paint colors for a rental property:
Soft Beige – A soft beige color is a great choice for a rental property. It's warm, welcoming, and versatile, making it easy to pair with a wide range of decor styles. It also creates a neutral backdrop that allows renters to personalize the space with their own furniture and decor.
Light Gray – Light gray is another popular choice for rental properties. It's a modern, sophisticated color that works well with both contemporary and traditional decor. Light gray is also a great choice for smaller spaces, as it can make rooms feel larger and more open.
Warm White – A warm white color is a classic choice for a rental property. It's clean, fresh, and inviting, and it complements almost any style of decor. Warm white is also a great option if you want to create a cohesive look throughout your rental property.
When choosing interior paint colors for your rental property, it's important to keep in mind the needs and preferences of potential renters. By selecting versatile, neutral colors that appeal to a wide range of people, you can create a space that's both beautiful and functional. So go ahead, grab that paint brush, and transform your rental property into a welcoming and inviting home!